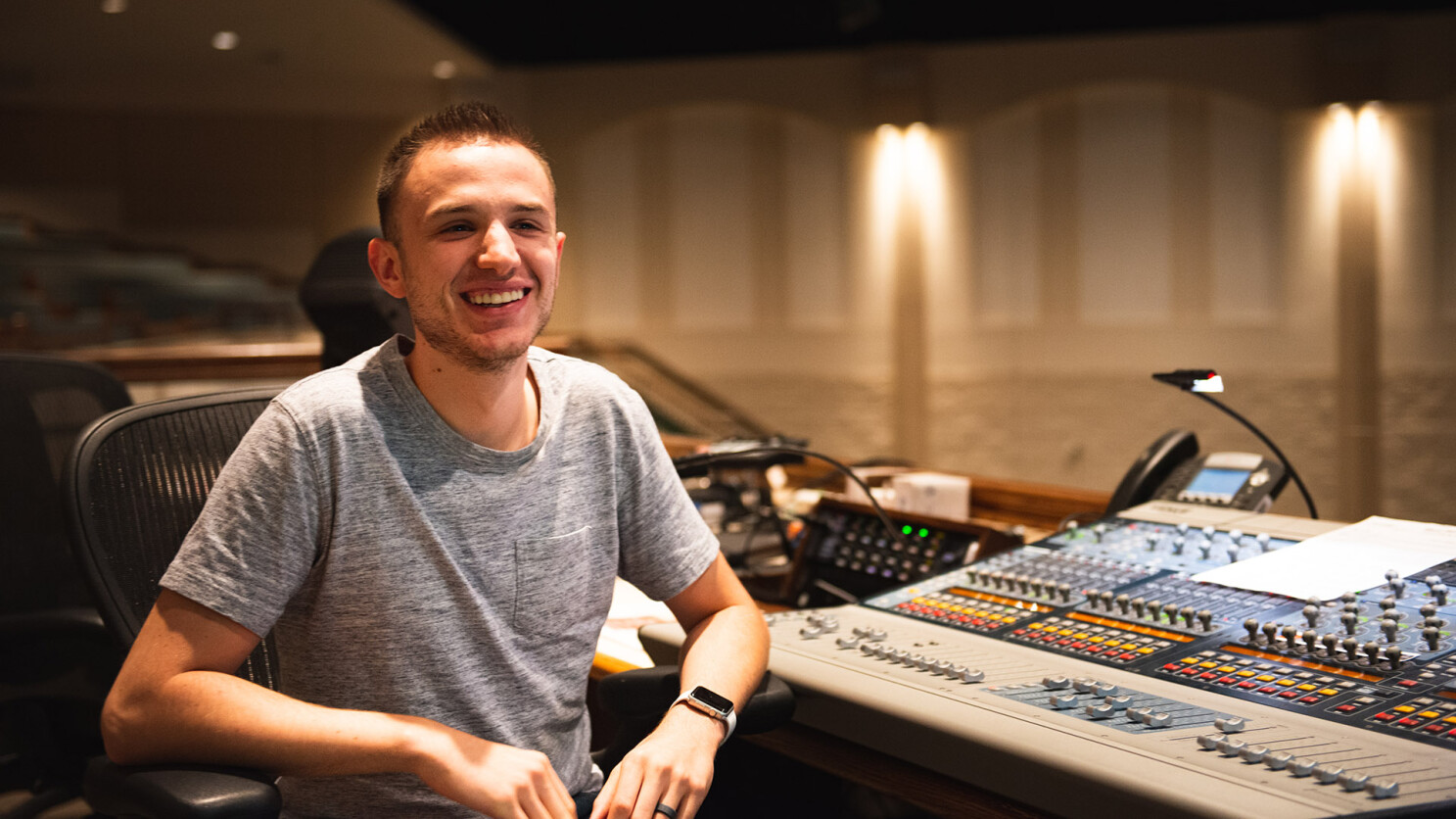 While Jason will say, "I'm just the stereotypical tech guy," we might have to disagree. Even though he does meet some of the stereotypes, Jason stands out because of his care for his volunteers. As a staff, we are extremely thankful for Jason and the rest of the Technical Arts team as they support all the ministry that takes place here.
---
Q: What do you do at Calvary?
A: I'm on the Technical Arts team at Calvary, and there are three of us as full-time staff. My main roles are supporting technical needs for our main services, as well as needs for Student Ministries and C4 Young Adult Ministries. What that basically means is...full preparation of audio, sound, video, stage - just being prepared for those events and supporting all the technical aspects of that. In addition, [I work] on stage design for lower auditorium for the C4 and Student Ministry environments. That's a few times a year as well as Calvary Student Ministry Winter Retreat, kind of heading up the tech for that. Coming up with new and creative ways to change things up each year, and coordinating all of that as well as working with guest groups. We have...hundreds of guest groups throughout the year that use Fellowship Hall or other spaces, [so] kind of being a liaison with them and making sure they have what they need. ...sometimes running their events, sometimes just helping them prepare well and just setting them up for success.
Q: How did you get a passion for tech?
A: I was always interested in technology [and] computers when I was growing up and messing around with stuff. It wasn't until I got to high school, I went to a Catholic local private school and they don't have an auditorium there. So they do all their shared services and assemblies and everything in the gymnasium. So it's a full setup and tear down of all the equipment every time they need it. They have a little bit of an AV (Audio/Video) crew there and one of the teachers was the AV group director. It was [during] sophomore year that I really got involved. One of my friends was involved and encouraged me to come hang out with him. So I started...helping out with different events and helping them set up. And really kind of realized that I was actually pretty good at doing it. I kept working over sophomore year, junior year...by senior year I had done over 900 hours of AV for the school either during the week, weekends, evenings at school doing all their musical performances, things like that.
Around the same time I started volunteering on the tech team in Student Ministries at Calvary. Michael Gilchrist, who had been my small group leader was the Middle School pastor at the time and he was like, "Hey, I think you should like volunteer for tech." This was happening around the same time I was getting involved at Catholic. And I started serving on tech and got more involved at Calvary just to continue to get more involved. When I went to college, I went to Thaddeus Stevens, and while I was in college, I ended up getting hired part-time at Calvary to be the Student Ministries tech guy. Help out like 15/20 hours a week - just supporting them and making sure they have what they need. Doing the same thing I was doing as a volunteer, just more responsibility. And then once I graduated in May of 2016, I came on full-time at Calvary.
Q: What brought you to Calvary?
A: I had a friend [that I] met in first grade and we had remained close throughout all of elementary and middle school. His family attended Calvary, grew up a Calvary, and still comes to Calvary. He was a part of an MPACT Group at the time, which is now Student Groups. But I was raised Catholic, so I would always go to Catholic church with my grandma every week and I attended there through like seventh or eighth grade. I was in seventh or eighth grade, I don't remember, my friend...had invited me to come to MPACT on Wednesday nights. He would always come and pick me up at my house and bring me. I got to know the guys in his group and Michael [Gilchrist], who was our group leader at the time, so I started coming on Wednesday nights, and then went to my Catholic church on Sundays.
I was still a little unsure of Calvary and still trying to figure it out, but I had a good time hanging out with the guys - [it] was a fun environment. And Michael really invested in me. We went for lunch or coffee or whatever and just talked about stuff. He was just so interested in the things I was doing in my life and I became close with him. We began going out more regularly, and so we started talking about different conversations...and then we ended up having a conversation [when] I was new in my eighth grade year: he shared the Gospel with me and talked about his relationship with Jesus. I didn't really know what I wanted to do. I was like, I'm already confirmed Catholic. I didn't know how that all worked... I still wanted to honor my parents - they were still Catholic.
But one night Michael and I went out, [and when] we came back I remember praying, accepting the Lord into my heart, while I was in my driveway. We sat there for an hour or so because I didn't know what to do. Like how do you do this? Cause I wasn't used to like praying out loud... We sat there for literally an hour and I prayed "the prayer," and began a knew relationship.
Q: What's your favorite thing about being on the Tech Team at Calvary?
A: One of the things I like about it is being in the back of the room. There's nobody else behind me. And so no one can see me. I feel comfortable back there. The closer I get to the front, the more uncomfortable I feel. So I feel like it's a safe place for me, because I'm like a very introverted person. That's one thing I like about it. [The other thing] I get to do is work with volunteer students, young adults, adults, and be able to get to know them and invest in them... Not only work with them on the technical side of things, but get to know them relationally. There are two guys that serve with me now that I was one of their leaders for MPACT for one year and so they kind of saw me as their small group leader and they saw me doing tech and it got them involved in tech, and so it's cool to see them grow. I met them in seventh grade and now they're both [going to] be freshmen in college. So it's cool to see them grow in their faith and in their maturity and doing all these things. So that's pretty cool to invest in them. That's one of the things I really enjoy doing.

Q: Apple or Windows?
A: Apple products all the way.
So my first laptop was an HP laptop. For whatever reason - I think it's when I started doing tech - I saw the people using Macs, Apple laptops, and I was like, "I feel like I need one of those. Like, if I'm going to be a tech guy...I need to have one of those. Because once I get that then...I'm a tech guy! Apple laptop = tech guy." It just made sense. So I don't even remember how, but somehow I got my first Mac laptop and I just liked it. I kept using it, and I don't even really know what got me into it. But then when I went to college, because I was an I.T. (Information Technology) major, everything was Windows based. So I would use Windows, but I'm the only person in the class with a Mac - everyone else has Windows PCs and I'm like...the stereotypical Mac guy.
But yeah, no, I'm deep in the Apple ecosystem. Multiple Mac computers, iPad, Apple Watch, iPhone, Airpods... I got my wife on the Apple train now. I'm like an Apple Rep. I'm just a walking advertisement for them, and I'll always choose Mac over Windows. If you ask me for suggestions, I'll always suggest a Mac, but I also understand that there's certain applications where you don't want to use a Mac, and I'll tell you that. But, I'll always encourage you to get a Mac, because Macs are the best. ...It's Apple, man. I'm bought-in. They got me...they got me hooked. I'm stuck.
Q: You were married recently, correct?
A: I was married recently, yeah! It's great! We've been married for... [takes a moment to think] ...four weeks. Probably by the time this [article] comes out, it will be a month. Abby and I met at Calvary, her family is very involved [here]. We met each other in Middle School and didn't really start talking to each other until Senior Year [of High School]. So [a few years later] we dated for a year, then were engaged for seven months, and just got married at the end of July. So it's been going really well!